EV Advertising in 2022 Has Lessons For Every Marketer

Andrew Garberson
It is Super Bowl week and a good time to talk about advertising, especially automotive advertising. Five auto manufacturers advertised during last year's game and most of the usual suspects are confirmed for this year.
In general, advertising is surprisingly conformist. With the Super Bowl being a possible exception, think for a moment about all of the ads from your industry over the last 12 months and I bet that the list of similarities is as long as the list of differences. Things like placement, format, tone, customer persona, and calls to action probably have a lot in common. This occurs for so many reasons: laggards follow leaders, scalable ad testing creates codified best practices, decades of media consolidation, globalization, and on and on.
The takeaway is that marketing leaders and their agencies have designed clear playbooks for brands to follow. And they do. This mashup of commercials from 2020 takes the argument a step further.

That conformity is noticeably absent today in the automotive industry, where billion-dollar advertisers are learning how to find their voice with electric vehicles.
Promoting Products vs Promoting Categories
Marketers typically prefer to promote products rather than categories. When pitching a product to consumers, a marketer differentiates their product against the alternatives in a way that both benefits from and contributes to the company's brand advantage. Coca Cola spends $4B a year on advertising to remind people to skip Pepsi when thirsty. And it's why PepsiCo spends billions to counteract that.
But what if no one knew what thirst was or that soft drinks could cure it?
Marketers may opt to promote the entire category when consumers do not yet know why they would want something. The argument would be that someone won't buy a solution to a problem that they don't know that they have. While probably not the preference of most marketers, as precious advertising dollars indirectly go to all products in a category rather than their particular product, sometimes it is the road that must be taken.
Selling Electric Vehicles to American Consumers
A recent Bloomberg article recognized the lack of conformity in how brands are approaching EV advertising the US. "Automakers typically split their national ad budgets between annual sales events ("December to Remember"), new model launches, and brand burnishing ("Built Ford Tough"). In 2021, with internal combustion engine cars in short supply, brands pulled back on the first two categories — Why tell consumers to hurry in today for a car that's not there? — and used their airtime, often paid for long in advance, to begin nudging buyers to think electric."
Nudging might be an understatement. The articles goes on to point out that auto brands ran 4X more national TV ads for EVs in 2021 than either 2020 or 2019. One of the first examples of that began at last year's (2021) Super Bowl with Will Ferrell and the Norway ad spot. I would describe that ad as 3 parts category promotion, 1 part product promotion.

Hyundai has been using its ad dollars to educate drivers on the cost-saving benefits of plug-in hybrids (PHEV), which is a version of selling a category. Ads that educate often teach consumers that they have a problem, and that problem can be solved by a new category of products.



Compare these to Ford, which generally spent the year promoting specific products. One possible reason for that, as the Ford marketing team has cited, is that Ford introduced electric versions of two brand icons -- Mustang Mach-E and F150 Lightning. Watch this long-form ad (below) and notice how clearly the company is prioritizing features -- "With the Mega Power Frunk, a walk-in closet that you can drive" -- rather than the entire EV category. It's a blatant contrast to the Hyundai PHEV commercials above.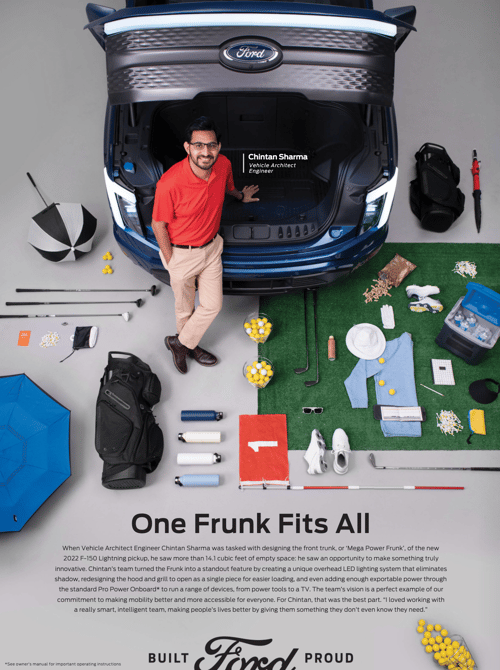 Another reason could be that without inventory on dealer lots, capitalizing on the hype of being the first Detroit auto brand to introduce an electric pickup truck presented a wonderful way to capture online reservations and deposits for 2022 and 2023 deliveries. Either way, it will be interesting to follow with nearly 20 EV launches planned for this calendar year.
We won't have to wait long.
Kia will ramp up advertising for the new EV6 starting on Sunday. Do you think they will tack toward promoting a product or promoting a category? I am excited to find out.